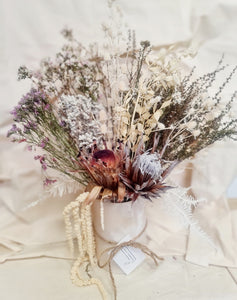 Florist choice Soft and subtle blooms in ceramic white pot is exactly that, for any home interior this arrangement will bring a sense of calm to any living area.
Measurements 65 cm height x 30 cm width.
Each of our Lasting Floral Arrangements are Custom Made, meaning u are purchasing a one of design, hand picked and made with love to ensure your bespoke arrangement is of the highest quality and knowing this will last indefinataly.
Our Bunbury Florist Studio is Based in Gelorup, 10 mins outside Bunbury, We buy Locally Grown Bunbury Flowers at every opportunity. Our Bunbury Florist will wrap and post Australia wide shipping or Deliver to you or a loved ones door if situated locally.
The sender will receive a fulfilled email confirmation once the flowers have been delivered.
Interstate orders will be posted in 1-5 days & take 5-10 days to arrive.  Please leave recipients name, address & special instructions in the notes below